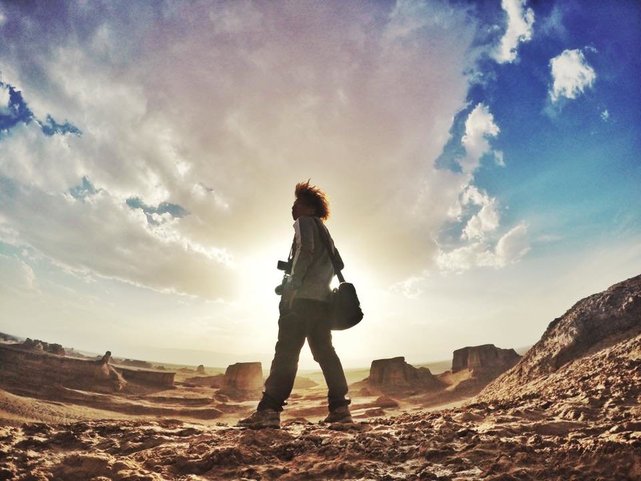 K.

CHAE

: THE

FINE ART STREET PHOTOGRAPHY
K. Chae travels the world with a camera in his hands. For that, some people call him a travel photographer. But he believes he's a street photographer who happens to travel, a lot. Inspired by master photographers of early 20th century, K. had a vision of travelling the streets of the world, and capturing unrehearsed moments in life. Pieces Of Earth, as he called it, became his life-long project, and through these photographs he started to gain the attention of the public in South Korea, his home country.
K. Chae prides himself in that his photographs are never staged, and he never asks people to pose or stand in certain way. He keeps his photographs in line with basics of the early days of street photography. However, his attention to colours and distinctive tones in his works caught people's eyes, and because most candid photography usually involved black and white colors and blurry and rough framing, this vivid color scheme and painting-like texture found in his printed works made some to think the photographs are staged art photography, or actual paintings. This is where he felt his works were unique to others', and thus he started calling his style fine art street photography.
PROFILE
Born in 1979, Incheon, South Korea, K. Chae started moving around in early age. He followed his parents to Honduras for a year and half, and it was then he learned his first foreign language- Spanish. He then moved to New York in 1996 to graduate high school, and entered Long Island University in Brooklyn. He had lots of interests in different types of arts, but it was black and white film class that got him hooked. There were many personal wanderings in between as he tried his hands on music, serving for his country in army, but in 2007, he finally graduated to earn B.A in Photography. He then went back to Korea to work for Grape Communications, one of Korea's top advertisement agency, and participated in making of television advertisements for some of Korea's biggest brands as a
CM
Planner of the company for 2 years. But his passion for photography only continued to grow, and he resigned from the position to become a professional photographer and fully pursue his personal projects. He spent three years from 2009-2011 traveling more than 30 countries, and it was then he developed his signature style, and decided what he wanted to do with his photography onward. Since then he's travelled more than 60 countries total, published 5 books, and had many exhibitions, making him one of the well known photographer in Korea today. Currently he continues his personal projects by travelling around, as well as working for big name clients for commercial projects.
PUBLICATION
In 2011, K. Chae published his first photography books, not one but three at the same time. Entitled 'Pieces of Earth', they were a first of the book series he planned in which each book documents a particular city. First three books' covered cities were Havana, Siem Reap, and Lisbon. In 2013, he gathered his life's works and combined stories behind them to publish his first photo essay, titled 'Your Heart As Your Lens'. This book became a bestseller and the most sold books in his career so far. The book allowed him to get more exposure, and allowed him to start working with bigger named clients. In 2014 he felt it was time to make a book out of Africa, a continent of which he travelled 18 countries in more than 150 days. The book was named Africa The Colorful, and its preface was written by Tony Wheeler, co-founder of world famous Lonely Planet. The book also made a bestsellers' list in Korea. Now he's working on a new photo essay, to be released in spring, 2016.
BITTARAE :

PHOTOGRAPHY SPACE IN SEOUL
K. Chae owns and runs a small gallery in Seoul, named Bittarae. It is located in Mullae area, which is becoming artists' haven with its old steel factories empty spaces filling up to become galleries and art spaces. Since 2012 he's used the space to provide young and up and coming photographers to exhibit their works, and also showcase his own. Starting in 2016 it will work more as a showcase gallery to show off his works and co-founder Kwangchan Song's, but will also hold special exhibition few times a year.
CLIENTS
Sony, Naver, Hyundai Card, Leica Korea, Pastel Music, Chosun Newspaper, Finnair.
EXHIBITIONS
102 Days Of Asia : Leica Gallery Korea (2015)
Africa The Colorful : Gallery Ilum (2014)
My Heart As My Lens : Gallery RyuGahyun (2013)
The Wandergraphy : Photography Space Bittarae (2012)
Pieces of Earth : Gahoe Gallery (2011-2012)
Pieces of Cities : Gallery the page (2011)
Pieces of Animals : Gallery Jak Eun Soop (2011)
Pieces of People : Gallery Ethiopia (2011)
Pieces of Natures : Gallery Madagascar (2011)